Social science research and strategic consultancy
0161 408 2047
Tag Archives: training; facilitation; workshops
18
Sep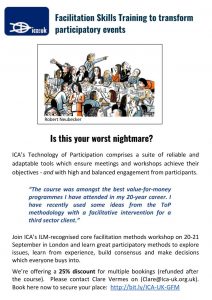 Tagged | training; facilitation; workshops
24
Jul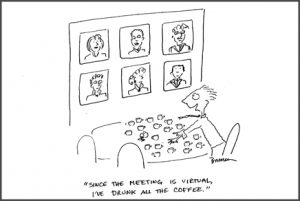 Internationally, across the public, private and voluntary sector, we spend up to 17 hours a week in meetings.
32% of all meetings are virtual (38% for employees under 35 years old)
67% of employees report that more than half the meetings they attend are not of value!
Yet what proportion of our training and facilitation budgets do we invest in making virtual meetings more engaging and productive?
Why not start with training virtual facilitators? 
ICA:UK's virtual facilitation training starts on 28th September 2017 and runs for 8 weeks. You will learn virtual facilitation skills that apply across platforms e.g. Zoom, Gotomeeting, Skype
Learn to lead engaging online meetings that elicit innovative thinking and creative problem-solving.
Gain competency leading virtual meetings with Adobe Connect, and ToP Focused Conversation.
Build your confidence as a virtual facilitator.
Learn tools and techniques for eliciting participation, virtual meeting design, and five best practices.
Learning Objectives
To develop basic skills essential to virtual facilitation, including how to use tested and proven collaboration tools:
Adobe Connect — a flexible virtual collaboration platform where participants can build engaging meetings through the use of electronic sticky walls, virtual breakout rooms, and a variety of pods that elicit participation.
Basecamp — a lightweight, web-based collaboration and productivity platform. Members can post messages, share links, share any kind of file, add events to a calendar, and assign tasks.
Who should attend this course?
This course is intended for anyone who is leading virtual meetings, virtual training, or webinars in the private, public or voluntary sector including Project Managers, Team Leaders, Facilitators, Trainers, Coaches, and Community Activists
Training approach
Participants experience practical, hands-on learning:
PRACTICE. Integrate learning by designing a virtual Focused Conversation with a partner, and by practising as facilitators and producers, with the rest of the class acting as participants.
COACHING. Receive one hour of one-on-one coaching from a trainer. Use the hour any way you like — to cover a topic you missed, polish a skill, or to go deeper.
FEEDBACK. Receive peer and trainer feedback during practice sessions.
CLASSROOM. Eight virtual sessions using Adobe Connect.
ASSIGNMENTS. One to two hours of assignments between sessions deepens the learning, and includes practice with a partner.
RESOURCES. Collaborate with classmates in Basecamp (no subscription needed).
Book here or contact orla@orlacronin.com for more information
Tagged | training; facilitation; workshops
07
Nov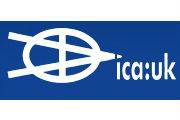 There are still spaces available on ICA:UK's Group Facilitation Methods training in Manchester on 17th -18th November, with Orla as the trainer. Booking link here 
Tagged | training; facilitation; workshops