Social science research and strategic consultancy
0161 408 2047
Tag Archives: M&E
12
Jun
I am embroiled in preparing for 2 online courses at the moment. One is the Intrac Online M&E course – we have 17 participants spanning 4 continents.  We're using Moodle as the asynchronous course platform, for discussions, homework and resources, and Blackboard Collaborate as the synchronous workshop/seminar platform.
I'm also starting to train today on an in-house Virtual Facilitation Online course with the Center for Disease control in the US, alongside with my ICA:USA colleagues Ester Mae Cox, Nileen Verbeten, Brenda Schmidt and Sheila Cooke.  For this, we're using Wiggio for the asynchronous component, and Adobe Connect for the workshops.
This is giving me a great opportunity to compare and contrast different platforms.  Part of course design, in addition to creating content, is designing for learning and fostering peer interaction: this is often sacrificed in online training, but in fact, it becomes even more important to design, as it doesn't necessarily happen naturally when people aren't milling around drinking coffee together and chatting when they sit beside each other.
Within our training, we're pushing ourselves to continuously model best practice in online facilitation…. to avoid webinar-induced comas!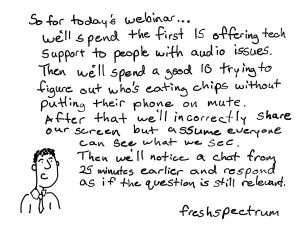 Tagged | facilitation, M&E, training, virtual facilitation