Social science research and strategic consultancy
0161 408 2047
Tag Archives: virtual facilitation
11
Jan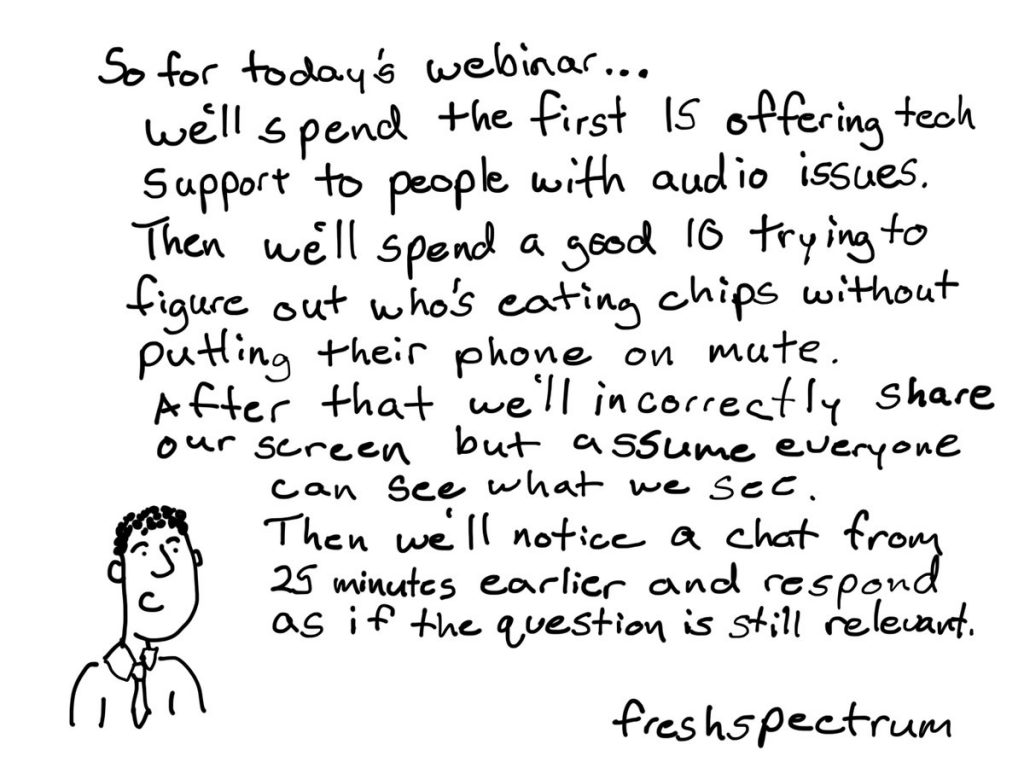 Avoid this, by learning how to design and facilitate engaging, inclusive and productive online workshops. The long standing online training in virtual facilitation, on which Orla has been collaborating for the past 5 years, starts again on 16th January, and there is *one* seat left. The course runs remotely, on 8 consecutive Thursdays, at 15:00 UTC/GMT. Bespoke/in house training on your preferred conferencing platform is also available: contact orla@orlacronin.com With thanks to Chris Lysy for the cartoon.
Tagged | training, virtual facilitation, virtual workshop; facilitation;
12
Jun
I am embroiled in preparing for 2 online courses at the moment. One is the Intrac Online M&E course – we have 17 participants spanning 4 continents.  We're using Moodle as the asynchronous course platform, for discussions, homework and resources, and Blackboard Collaborate as the synchronous workshop/seminar platform.
I'm also starting to train today on an in-house Virtual Facilitation Online course with the Center for Disease control in the US, alongside with my ICA:USA colleagues Ester Mae Cox, Nileen Verbeten, Brenda Schmidt and Sheila Cooke.  For this, we're using Wiggio for the asynchronous component, and Adobe Connect for the workshops.
This is giving me a great opportunity to compare and contrast different platforms.  Part of course design, in addition to creating content, is designing for learning and fostering peer interaction: this is often sacrificed in online training, but in fact, it becomes even more important to design, as it doesn't necessarily happen naturally when people aren't milling around drinking coffee together and chatting when they sit beside each other.
Within our training, we're pushing ourselves to continuously model best practice in online facilitation…. to avoid webinar-induced comas!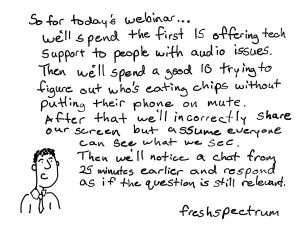 Tagged | facilitation, M&E, training, virtual facilitation
28
May
Today was a real milestone for OCR. Thanks to wonderful training provided by the ToP Bootcamp provided by Sheila Cooke and Esther Mae Cox, we have just run our first large scale virtual workshop across 3 continents.
We now offer virtual workshop facilitation as part of OCR's offering to clients around the world. This approach brings many benefits, including, of course, the opportunity to increase participation of staff or stakeholders, time savings as a result of reducing national and international travel time, and reduction in your carbon footprint. One of the reasons I personally am so excited is that it feels like real progress in aligning OCR's activities with my own core values. Though it's always wonderful to work with clients in their home base, I'm increasingly uncomfortable with the personal, organisational and environmental costs of long haul travel.
Today's meeting (involving senior staff at a large NGO) took place with 12 individuals sitting in Germany, UK, South Africa, Brazil and the US. It ran for 3 hours and we made substantial progress on a strategic task we had started during a 2 day face to face meeting in Berlin. The team found the experience interesting and productive. We even had an opportunity for some banter!
We'll post some FAQ soon in relation to virtual workshops. In the meantime, do get in touch if you'd like to discuss possibilities for your organisation.
Tagged | virtual facilitation